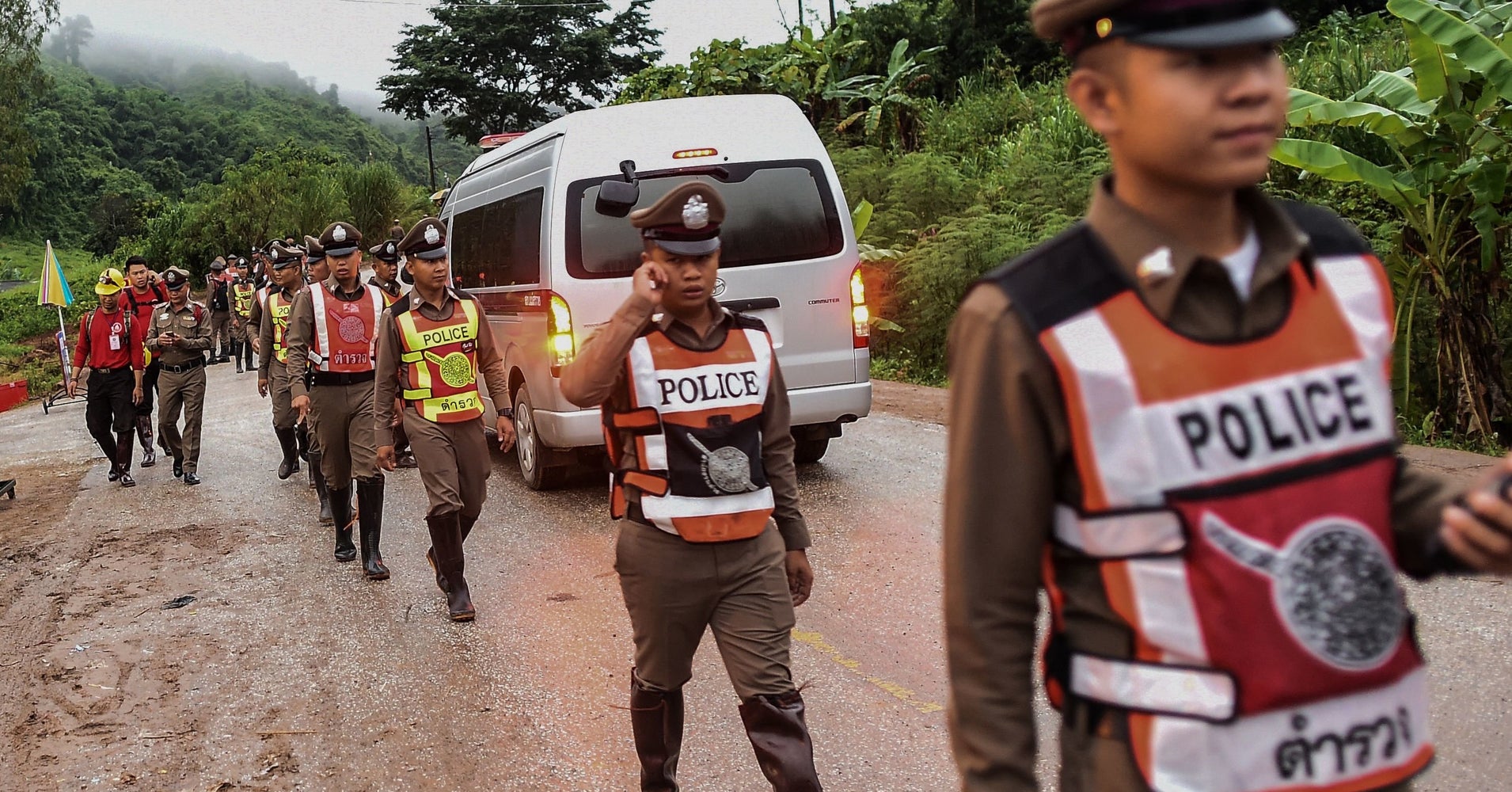 At least one more boy has been rescued from Thailand's Tham Luang Cave as the harrowing mission to rescue the stranded children and their soccer coach stretched into its second day. 
A Thai navy official confirmed to Reuters that a boy was freed from the cave on Monday afternoon local time. That brought the total number of boys rescued to five. Eight people remain trapped in the flooded cave system. 
The first four boys to be rescued were led out of the cave by an international team of rescue divers on Sunday. Narongsak Osatanakorn, the former Chiang Rai governor who's been heading the rescue operation, said the four children had to dive more than half a mile to get to safety. They wore full-faced masks "while hanging on to the bodies of rescue divers," Channel News Asia reported.
Thai officials had said Sunday that they were temporarily suspending the rescue effort so they could replenish oxygen supplies and other gear. "We've used all the oxygen," Osatanakorn told reporters. He said the mission would resume within "10 to 20 hours." 
On Monday afternoon, Osatanakorn said the same group of divers involved in Sunday's rescue operation had entered the cave at 11 a.m. local time to rescue the group still stuck inside. He said recent rains had not affected water levels in the cave and conditions were expected to be "as good as they were on Sunday," reported The Guardian.
The 12 members of the Wild Boars junior soccer team and their 25-year-old coach Ekkapol Chantawong first went missing on June 23 after heavy rains entrapped them in the Tham Luang cave where they'd gone for a trek. 
The group was found nine days later in a cramped chamber 2.5 miles inside the cave system by two British volunteer rescue divers. Since then, an international team of engineers, rescuers and divers has been delivering supplies and food to the children and their coach ― and mulling ways to best help them escape.
The boys, some of whom don't know how to swim, have also been taught diving techniques to prepare them for their difficult journey home.
The extreme danger of the rescue effort was underscored last week when a former Thai Navy SEAL, Samarn Poonan, died after he fell unconscious while placing oxygen tanks deep inside the cave. 
The four boys who were rescued on Sunday appeared to be in good health, Thai officials said, but were undergoing a battery of medical tests in the hospital to ensure they were free from disease and infection. The boys have reportedly yet to meet their families, though a senior official told The Guardian that they could be reunited on Monday night.
"No hugging" or "touching" would be allowed between the boys and their relatives, however, until all medical tests are completed, the official said.
Pad kra pao, a Thai chicken dish, was said to be the first meal that the four boys asked for.